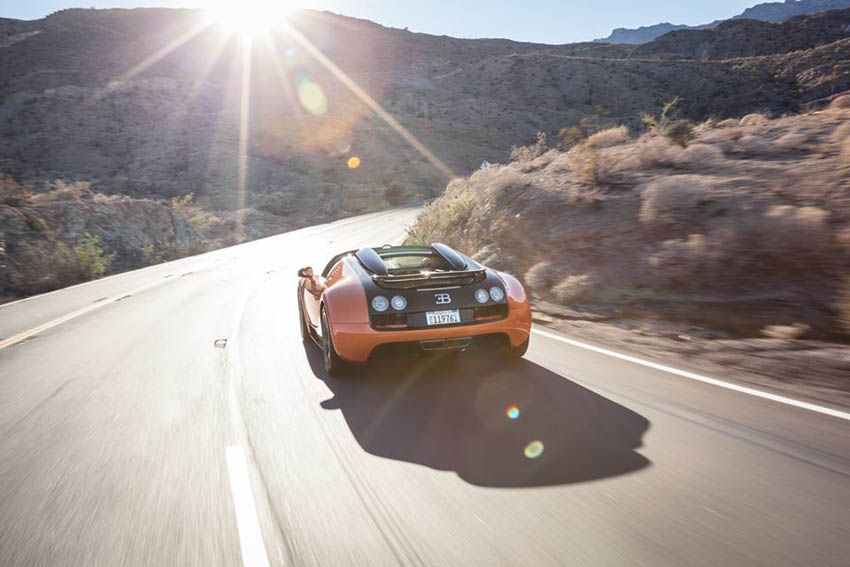 Buying a Bugatti Veyron is already pretty darn cool, but the luxury car brand took it a step further by offering their customers the chance to take a Veyron Grand Sport Vitesse out for a test spin — which they announced last year. Called the Bugatti Dynamic Drive Experience, four events are planned to happen annually throughout the U.S. and Canada, and according to
GT Spirit
, the first one of 2014 was held on California's famed Route 74.
"Driving a Bugatti is an incredible experience. It is the most powerful and fastest production car in the world and is outstanding in terms of driving dynamics but also in terms of usability", said Dr. Stefan Brungs, member of the board of Bugatti Automobiles S.A.S. for sales, marketing and customer service. "We modeled this new event format that is centered around driving the 1,200-hp Vitesse on the greatest roads in America with the opportunity to fully experience the car both on windy road courses and at high speeds on long straightaways."
The scenic Route 74 is known for being one of the most dangerous in the states, mainly due to its narrow roads and high traffic, and gives some pretty stunning views of the Senora Desert. Dangerous curves and fantastic sites? Sounds like the perfect backdrop for test driving the 1200hp, open-top Grand Sport Vitesse. If driving the $3M supercar seems a little intimidating (you're only human), not to worry because Bugatti lends you a professional instructor who will give you tips on how to handle the car. When you're not driving, you get to enjoy five-star treatment and events, all while getting to rub elbows with Bugatti's representatives.
The very first event was held last year in Las Vegas, and the French auto brand is hoping to keep this going in the years to come. If you want to take part, you should contact Bugatti directly.
Source: justluxe.com